You may have already heard about thumbtack.com, from all the press they have received over the last few months. This is how it works: you sign up, create your profile and receive leads from local businesses looking for web design services.
One thing which stands out right away is that in order to apply to a job you must pay as much as $15 (9 credits, but this price can depend on location, I am in NYC) just to send a quote to a potential client.
More cons: leads contain a limited amount of information (1 sentence description of what a potential client needs) and nothing about a prospective budget.
The few pros: only 5 people can send a quote to a potential prospect, so you are competing with no more than 4 other service providers. Leads are local, and oftentimes you can get a phone number for a prospect and call him or her. In busy areas (such as NYC) you can get as many as 5 potential leads daily.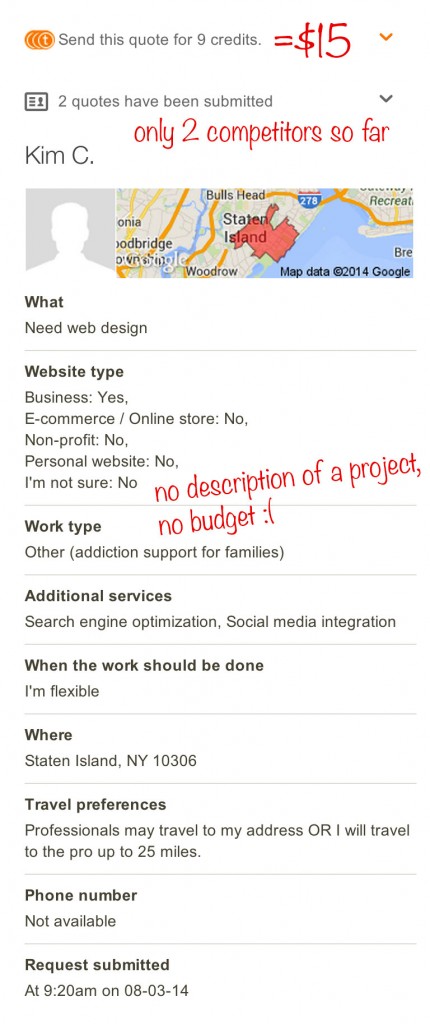 ---
Statistics 101
I don't mind paying for leads if they have at least a 10% conversion rate. I decided to invest some money in thumbtack.com and buy a few leads to see if I can turn them into at least 1 sale. If the project I get is worth $2000, and my cost was $160, I've spent less than 10% to acquire the project, which is better than the 20% referral fee charged from sites such as matchist.com. In general, not a bad deal.
Success does not come immediately, but in the long run. Buying one lead for $15 is not worth it as you only have a very small chance to win the job (let's assume 10%). But when buying 10 leads you can count on at least 1 client.
---
My experiment:
I started sending quotes, and after four emails (costing me $60), I got no response. I contacted thumbtack support and complained that leads do not contain much information about the web design projects. I suspect many of those potential clients are simply looking for cheap labor (<$10/hour).
They quickly replied with an apology and assured me they are doing their best to let people who submit web design proposals know that they need to have a reasonable budget in place (but what is "reasonable"?). They also gave me back a couple of credits, which was nice.
I decided to submit more quotes, decrease my rates and simplify my pitch.
I spent another $100 for bids and was contacted by a small business wanting a simple website. After 2 weeks of email exchanges, discussions and a meeting, I won the bid for a $2000 small business website.
Spending $160 and 4 hours bidding and revising leads (this time does not include a meeting) turned into a $2000 project and a solid relationship with a local business.
---
Conclusion
---
It is possible to get quality projects on Thumbtack, but be aware that many potential clients are looking for a bargain and only have on a small job.
If you decide to use Thumbtack, set the budget you wish to spend, for example $200, and test if it works for you. You need to send enough bids to see some results.
Unfortunately, most web design leads on Thumbtack are low quality. It is not easy to spot a window shopper, so you should bid only for those projects where the client explains his or her needs in great detail and is clear about what should be delivered and when.